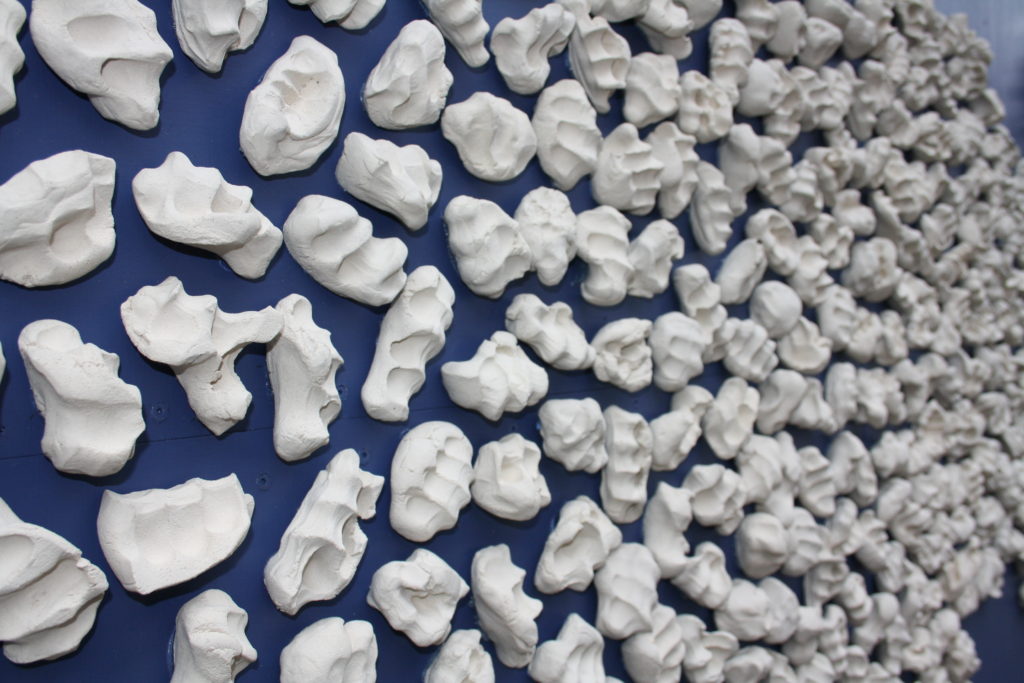 Human to Human (Mellem mennesker), 2017
Social art projekt, Krauseparken at Østerbro, Copenhagen 2017-2018
Around 800 handshakes in burned white stoneware clay together with 800 sentences or words about care.
H 200 x W 500 D 9 cm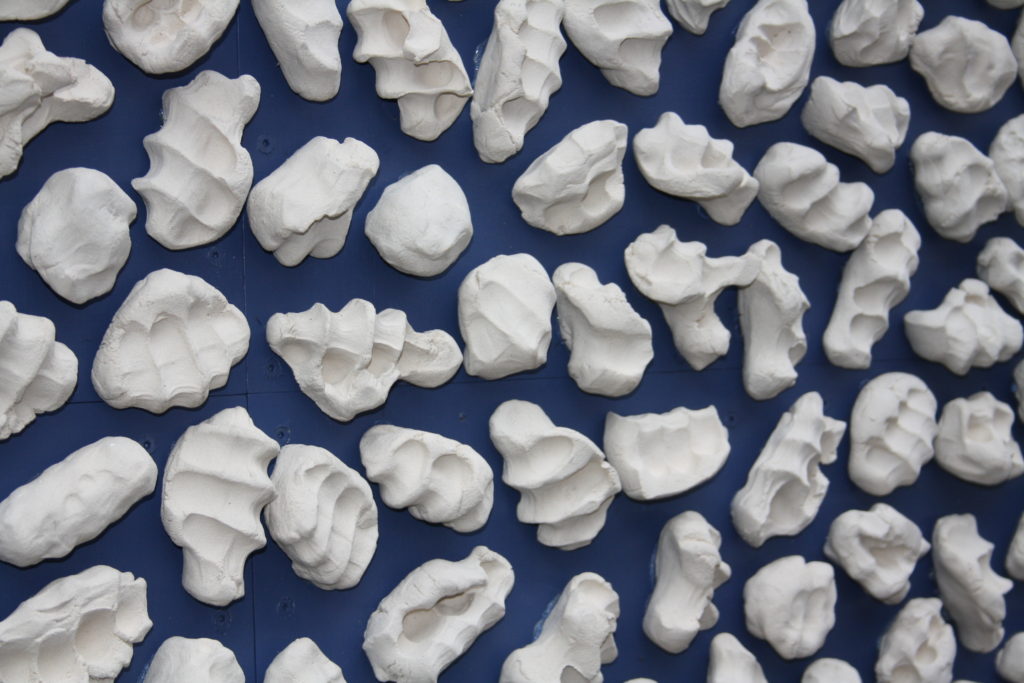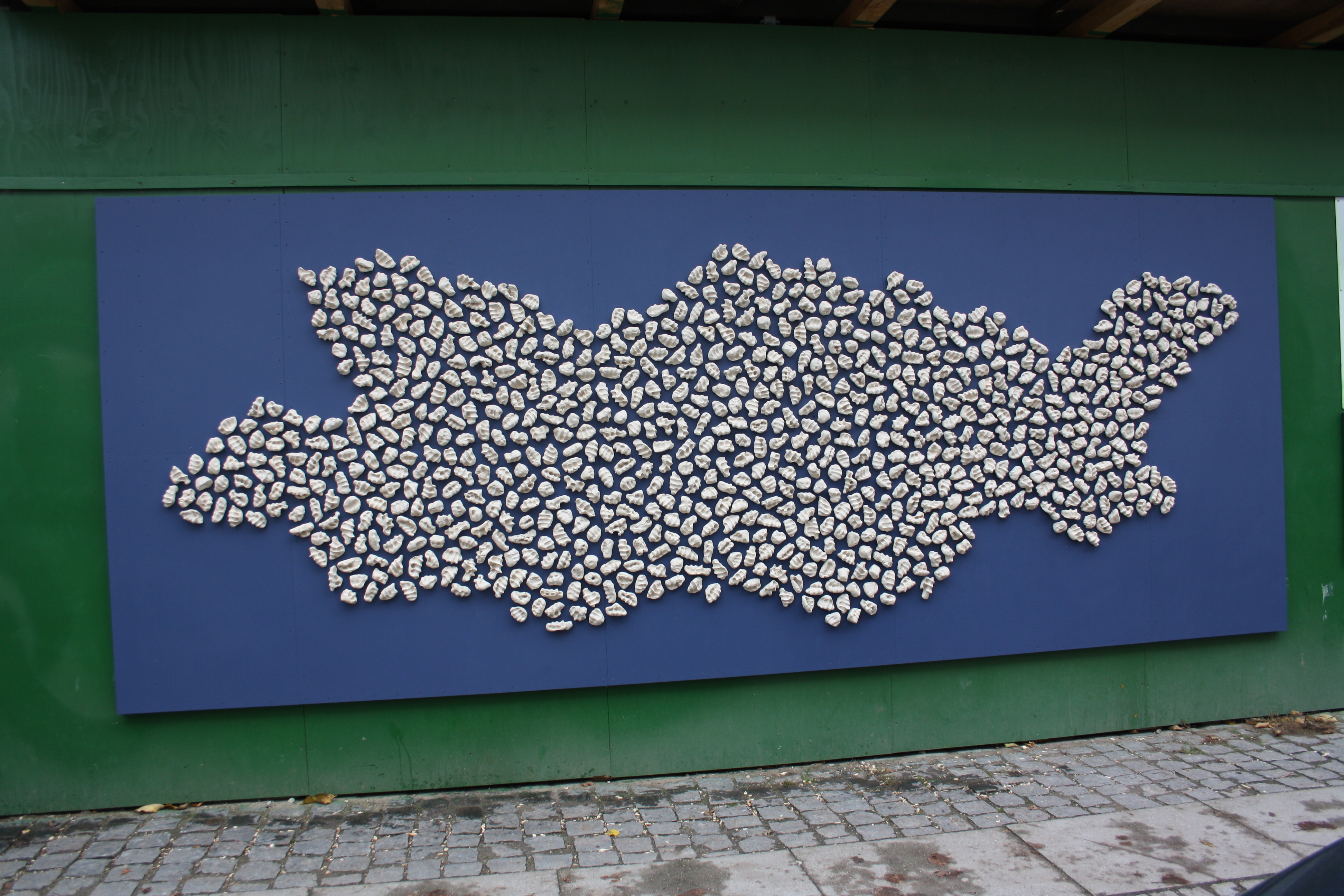 Mellem mennesker er et værk, der sætter fokus på omsorgens betydning for vores hverdag. Omkring 800 borgere og forbipasserende ved Krauseparken på Østerbro, København har bidraget med ord om omsorg og med håndtryk i ler som symbol på deres omsorg.
Over en periode på knap 14 dage opholdte jeg mig i området ved Krauseparken med mine materialer; afvejede klumper af hvidt stentøjsler, foldere med information og plads til at skrive ord om omsorg, tuscher, engangsklude, 1:5 skitse til det endelige værk m.v. Her inviterede jeg forbipasserende samt brugere og medarbejdere på flere lokale institutioner til at bidrage til værket.
Omkring 800 personer i alle aldre har været med. Først gav de en klump ler et håndtryk – blidt eller hårdt – som symbol på deres omsorg. Dernæst skrev de én sætning eller ét ord om, hvad omsorg betyder i deres hverdag. Ægtepar, enlige, familier i to eller tre generationer, venner, skolekammerater, medarbejdere på metrobyggeriet, folk med job i området, børn, unge, ældre samt personale fra områdets institutioner, turister osv. har bidraget til værket.
De mange individuelle håndtryk og symboler på omsorg vendte efter brænding og montering tilbage til lokalområdet, som ét værk om omsorg.  Håndtrykkene danner nu én form, som er skabt med udgangspunkt i de konturer, der opstod gennem deltagernes placeringer af deres håndtryks nummer på 1:5 skitsen.
Alle de skrevne ord og sætninger er samlet i en fortløbende tekst af mangfoldige tanker, følelser og budskaber om omsorg. I kan finde teksten ved at skanne QR-koden.